ROUX HAS THE SOLUTION FOR ALL YOUR HAIR COLORING NEEDS!
Whether you are looking to quickly conceal grays and roots, brighten up your current color, or try a completely new hair color, Roux's top-selling hair color products can make it happen. We have expertly crafted a suite of coloring must-haves designed to refresh your hair, no matter what stage of the hair coloring cycle you find yourself in. Explore our most-loved hair color products to see which ones suit your hair coloring needs.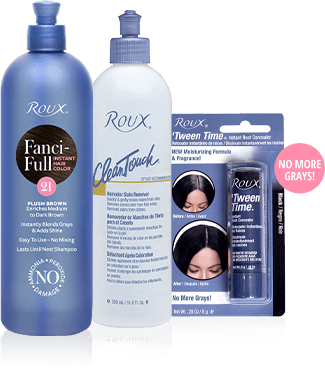 For a quick hair color refresh, our Fanci-Full Rinse is your go-to. Bring faded hair color back to life, correct color, or tone your hair in one easy step. Choose from 13 different shades to find that color that best suits you!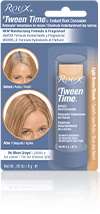 Reach for 'Tween Time to conceal gray roots in between hair color applications. No matter if you're on-the-go or at home, this easy-to-use product gives you seamless coverage for a perfect hair day.

Quickly erase excess hair color from your skin, scalp, or hair ends with our Clean Touch Stain Remover. Its gentle formula helps you achieve professional coloring results.