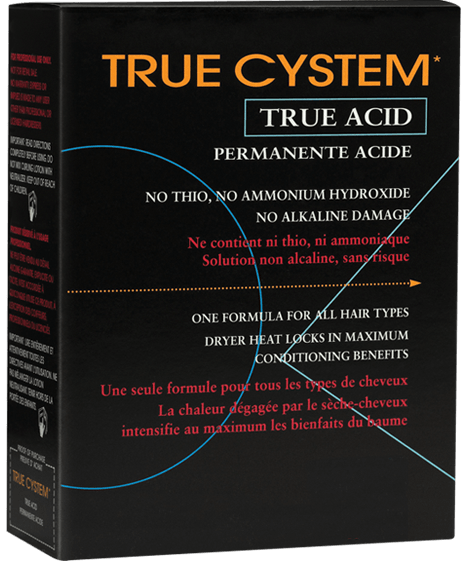 True Cystem
Average rating: 1 reviews
Reward your hair with the long-lasting curl it deserves! Roux True System gives your hair curl, volume and texture with beautiful, natural-looking results. Designed for normal, resistant, tinted and bleached hair.
No thio, ammonium hydroxide or GMT
No mixing required
No perm odor after processing
Maximum conditioning formula allows you to perm-over-perm
Gentle pH activates with dryer heat without swelling
Curling Lotion: Water, Cysteamine HCL, Propylene Glycol, Laureth-23, Polyquaternium-6, Ammonium Carbonate, Pentasodium Pentetate, Fragrance, Citronellol, Coumarin, Lanalool Neutralizer: Water, PPG-Ceteth-10 Phosphate, Laureth-23, Hydrogen Peroxide, Oleamidopropyl Dimethylamine, Trisodium Phosphate, Phosphoric Acid, Fragrance, Citronellol, Coumarin, Linalool
Preparation: Shampoo hair and thoroughly rinse. Towel blot lightly. Wrap with water, hair should be uniformly damp but not dripping while wrapping. If hair becomes dry while wrapping, use very light misting to maintain uniform dampness. Avoid over wetting. Complete the wrapping using consistent tension.
Applying Curling Lotion: Snip tip of lotion bottle. Apply lotion lightly to each wound rod and reapply a second time to completely saturate the hair. Do not allow lotion to drip. Blot excess lotion from scalp, forehead, and nape of neck with wet cotton. After blotting, place plastic cap over all wound rods making sure all nape rods are covered. Secure cap at forehead and clip ends together.
Process Time: No test curl necessary. Immediately place head under preheated dryer (set high). Set timer for hair type: Normal/Resistant: 15 minutes. Tinted/Frosted: 10 minutes. High Lift Tinted/Highly Frosted/Double Processed Bleached: 4-5 minutes. When time is up, processing is complete. Rinse completely.
Rinsing: When processing time is complete, remove plastic cap. Hair should be rinsed with comfortably hot water using full pressure for a full 5 minutes. Set timer to avoid under-rinsing. Remove excess water by thoroughly blotting each rod before neutralizing. Apply cotton around hairline to avoid dripping.
Neutralizing: Apply Neutralizer to each rod at least twice, making sure all Neutralizer is used. Set timer for 5 minutes allowing Neutralizer to remain on the hair for the full time. When the time is up, rinse thoroughly on the rods with warm water. Remove rods and rinse lightly again. Style as desired.
Average rating: 1 reviews
Jun 2, 2020
Cannot find True cystem perms
Location: Pekin,I l
Age: 62
Would like to find supplier that can sale me True Cystem Perms.