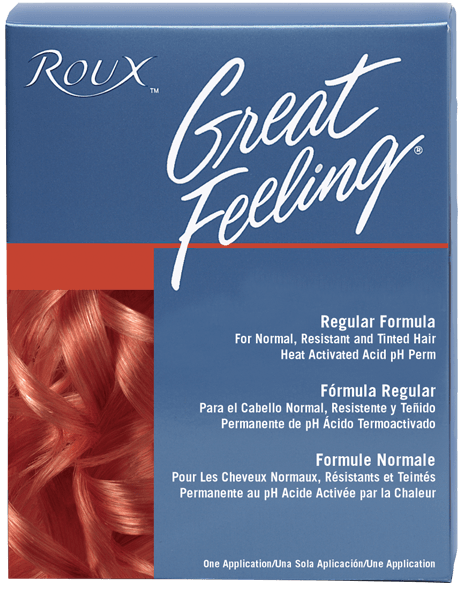 Great Feeling
Average rating: 2 reviews
Treat your hair to soft, manageable curls! Roux Great Feeling delivers a uniform curl pattern from resistant new growth to porous ends, giving your hair firm, natural-looking curls.
Leaves hair in a more normal condition
Water wrapping allows lotion to gently diffuse to the cortex
Lotion remains inactive until dryer heat starts, helping to prevent over-processing
Formulated with Roux's exclusive acid pH 6.9 technology and Cortexel, an exclusive complex that prevents cuticle swelling
Bromate neutralizer thoroughly closes bonds and acts as a deodorizer
Curling Lotion Part A: Glyceryl Thioglycolate, Glycerin
Curling Lotion Part B: Aqua (water), Potassium Cocoylhydrolyzed Collagen, Pentasodium Pentetate, Laureth – 23LAURETH, Parfum (fragrance), Styrene/Acrylates Copolymer, Ammonium Hydroxide, Glycerin
Neutralizer: Aqua (water), PPG-5-Ceteth-10 Phosphate, Hydrogen Peroxide, Laureth-23, Phosphoric Acid, Oleamidopropyl Dimethylamine, Trisodium Phosphate, Parfum (fragrance), Benzylalcohol
Shampoo hair and towel blot lightly. Wrap with water. Hair should be uniformly damp, but not dripping while wet. If hairs becomes dry while wrapping, use very light misting to maintain uniform dampness. Complete wrapping using form consistent tension.
Place cotton strip around hairline and towel at nape of neck. Change cotton or neck towel if it becomes wet with lotion. Note: Do not wrap with lotion or any other wrapping aid, or leave-on conditioner.
Apply lotion lightly to each rod and then reapply a second time to completely saturate the hair. Do not allow lotion to drip. Blot excess from scalp, forehead, and nape of neck with wet cotton.
Set timer for 20 minutes. When time is up, processing is complete. Hair should be rinsed with comfortably hot water using full pressure for 3 minutes. Set timer to avoid under-rinsing. Remove excess water by thoroughly blotting each rod before neutralizing. Apply cotton around the hairline to avoid dripping.
Apply Neutralizer to each rod at least twice, making sure all Neutralizer is used. Set timer for 5 minutes allowing Neutralizer to remain on the hair for the full time. When the time is up, rinse thoroughly on the rods with warm water. Remove rods and rinse lightly again. Style as desired.
Average rating: 2 reviews
Jun 2, 2020
Great Feeling Regular heat activated perm
Location: Olmsted Falls , Ohio
Age: 65
I HAVE USED THIS PERM SINCE REVLON INTRODUCED IT .. I LOVE LOVE LOVE this perm and am praying you havent retired it and replaced it with a "buffered"alkaline perm ! This is the best perm in 46 years I've found for all types of hair . It is an acid perm that is true to rod size , springy , not limp and leaves the hair shiny and NATURAL LOOKING ... I see it on your website but it won't let me order it . Please respond to my personal email as well as here to the public . Lois
Jun 2, 2020
Great product
Location: Hooppole Illinois
Age: 69
I love these perms. I have used them forever. Unfortunately I cannot find anyplace that sells them anymore. My hairdresser is a small business in her home and I tried to find them for her. Found some online and they must have been very old because they would not mix-they separated and they did not take on the one or two that she used. Can we still get them? And if so, where?ThanksLaura Gerber